About Hollywood Film Service Company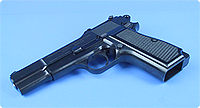 Since our establishment in 1983, HFSC has been the provider for local and oversea law enforcement departments and private sectors with the comprehensive services of live firearms and ammunition, including purchase and sale, order, import and export, transit, storage, modification and deactivation (for private collection).
Being Asia's premier licensed firearms and ammunitions supplier, Hollywood Film Service Company (a.k.a. HFSC 荷李活電影服務公司) is dedicatedly engaged in providing full services, for film, TV, stage drama and live show companies worldwide. Clients such as Paramount Pictures (USA), Universal Pictures (USA), Miramax Films (USA), John Woo Films (HK), Jackie Chan Films (HK), Johnny To Films (HK), TVB (HK) and ATV (HK), with a wide range of modified firearms, various blank ammunitions, metal & plastic replicas and rubber weapons, in an ever-growing entertainment industry.
Throughout its more than 39-year history, HFSC has been a leader in developing weapon modification technologies and in converting those technologies for use in commercial markets in Hong Kong. With years of experience, HFSC has successfully built upon its pioneering tradition to become the weapon modification technology leader in Asia.
Professionalism, Safety, Honesty and Creativity are four main factors that drive our company, providing the client with the unique services that not only fulfils artistic criteria but also excellent work ethic. We adopt a flexible policy where the client's needs are taken seriously and are willing to work in any scale and medium to provide our client with the required result.